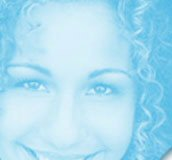 Previous News Items
Ivette Performs on Broadway November 30th
Ivette will be making her Broadway debut in Latinologues on Wednesday, November 30, 2005 at 8PM. For additional info about the show and ticket availability visit the show's website and/or contact the box office at 212-947-8844.
Finding the "Edison Idol"
Ivette and her father, Gordon, will appear as special celebrity judges at a youth talent competition in Edison, NJ. The event, scheduled for Saturday, August 28th, will highlight the Township's Annual Family Festival of Fireworks and provide area youth with an opportunity to showcase their vocal talents. Forty pre-auditioned middle and high school students will participate in the all day competition for a chance to win prizes and be named "Edison Idol." The venue is Papaianni Park at Route 27 and 100 Municipal Boulevard in Edison, NJ. Admission is free.
Home News Tribune Centerpiece
Ivette and her musical were the subject of a centerpiece in the Homes News Tribune, a Central New Jersey newspaper. The article, which was originally published in December of 2003, is reprinted here.
The Circle
Ivette performed in a musical reading of "The Circle" on June 2 and 3, 2003 for an invited audience in Los Angeles.
Confessions of a Former Pop Star
Ivette wrote and starred in a one-woman, staged show entitled, Confessions of a Former Pop Star. The show played to excited audiences at Don't Tell Mama Cabaret in NYC, NY on December 17th, 19th, and 20th. The production was a fun filled hour of song which chronicled and celebrated Sosa's life long experiences in entertainment. Confessions of a Former Pop Star marked Sosa's third appearance at the famed Don't Tell Mama Cabaret and her first solo venture.
Click here for the original show details and continue to check IvetteSosa.com for updates and information on new shows.
Pontiac Vibe Commercial
Ivette is being featured in a nationally televised campaign for Pontiac Vibe.
Even Stevens
Ivette guest starred on an episode of the Disney Channel's sitcom, Even Stevens. She played the role of Sammi, a sales girl at a trendy boutique who tries to lure Ren into spending money that doesn't belong to her. The episode, entitled "In Ren We Trust," was broadcast by Disney's French affiliates in January and was first aired in the US on May 19, 2003.
Message From Ivette Archives
Vist the Message Archives to read past messages from Ivette.